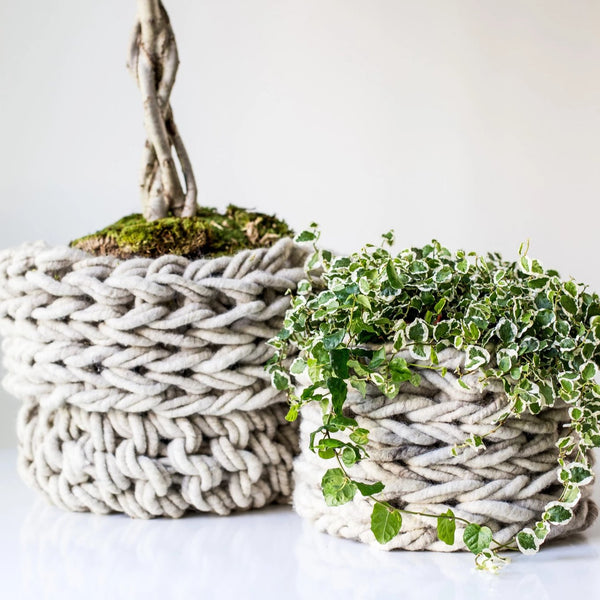 Arm Knit Baskets Pattern
Traditional knit stitches at an oversized scale always make a wow-worthy statement! And what better way to keep your favorite things on display? Make these stunning baskets with no tools other than your own two hands. Never knit before? Never fear! Lots of beginners try arm knitting with great success. In no time, you'll have these lovely baskets adding rich texture to any interior space you choose!
This pattern comes with the  How to Arm Knit PDF (free cowl pattern included). Also includes tips and tricks bonus.
SMALL BASKET
:: 50 yards of jumbo specialty yarn
MEDIUM BASKET (shown)
:: 75 yards of jumbo specialty yarn
LARGE BASKET (shown
:: 150 yards of jumbo specialty yarn
Hold the yarn double for this project. Use a jumbo specialty yarn that gets approximately 1 stitch to the inch on traditional needles.
This project can be done with less expensive yarn. If the jumbo specialty yarn is out of your budget, simply replace each strand of jumbo yarn with 2-3 strands of a super bulky yarn that you buy in your craft or local yarn store. When switching yarns, just knit a swatch that is 7 stitches by 7 rows and see if you match the stated gauge, increase or decrease the number of strands accordingly.