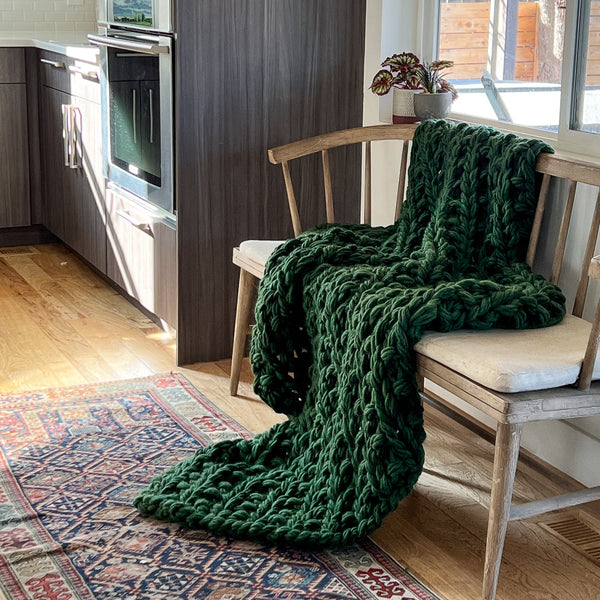 Alternate Rib Arm Knit Blanket Kit
Make this luxurious blanket in an afternoon. Enjoy the alternate rib row pattern which adds to the lush texture of the blanket. I love arm knitting with 4-strands of super bulky wool because it prevents pilling and adds extra loft to your blanket. I also love the generous sizing at 44" x 60" which means you can really get cozy and warm!

Pattern comes with links to TWO video classes. ANY BEGINNER CAN DO THIS! Non-Arm Knitters start from scratch with my classes all the time and have great success!
This kit includes everything you need to make the blanket.
:: 8 skeins of gorgeous Cascade Magnum (250g/8.8oz, 123 yds/each; 984 yards total)
:: Alternate Rib Blanket Pattern
:: How to Arm Knit photographic tutorial PDF
:: Step-by-step photographs of all required techniques
:: Arm Knitting 101: Filmed Class. (This is a video of me teaching another group of people how to arm knit. In it, I teach how to cast on, knit, purl, bind off, stop in the middle and join yarn to keep going. I walk through different blanket patterns as well).
:: Free Creativebug Video Class about how to arm knit and make a cowl which is a direct overhead and to camera teaching experience.
:: Canvas Tote holding the yarn
FREE SHIPPING in the U.S.
If you are looking for just the pattern/video for the Alternate Rib Arm Knit Blanket, look HERE.
If you are looking for just the videos and pattern on How To Arm Knit, look here.