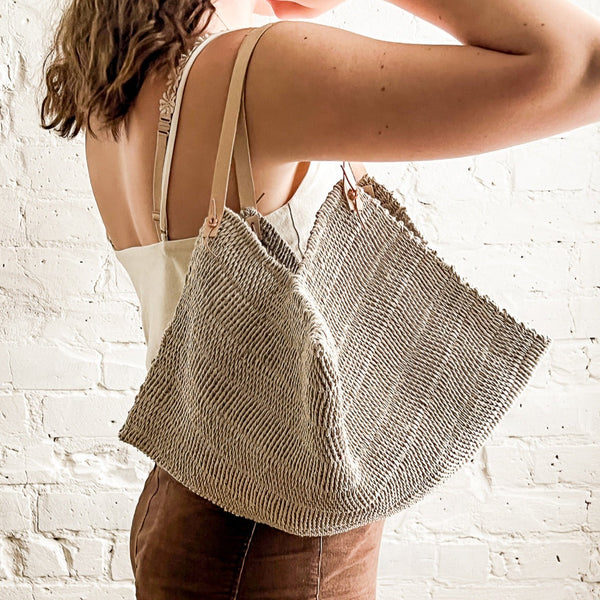 Penelope Bag Pattern
This texture makes me swoon, and making this beautiful bag is simple! Accomplish this pattern by repeating the same 4 rows on a 20" frame loom to make this gorgeous herringbone texture. What a great way to practice something new on your frame loom.  Seam up four corners and you have a fabulous purse, tote, or project bag or the like. Because of its construction, Penelope sits flat, making it a great working bag, or easy to set down for the moment. 
Measurements:  12" x 12" sitting flat. 14" from handle to base when hanging.

Pattern comes with full Step-By-Step video to weave and make the bag, as well as detailed Weaving Basics Video!
Pattern Requires:
: 3 x Flax & Twine Daytime Linen DK Weight, 123 yd (112m), 3.5oz (100g)
: 1 x Flax & Twine Daytime Linen DK Weight, 30 yd (27m), (25g)
: One pair of 16" Coco Knits Leather Handles
: 4 stitch markers
: Clippers
: Weaving needle and Darning needle
: BEKA 20" Standing Loom or other loom that gets 5 EPI (2 ends per cm) with shed stick and shuttle. Weaving area 20" x 24" 
Looking for the Penelope Bag Kit, which comes with everything you need? CLICK HERE
Please note: This pattern calls for a loom with 5 EPI, but you can adjust your loom's density by double warping certain notches and spreading the spacing with some spacer rows and the top and bottom of the loom. If you keep the interval of warp threads at 12, you can follow the pattern as it is written. The bag is made from a square piece of fabric, if you need to adjust to a smaller size, or bigger, just make sure your piece is square!