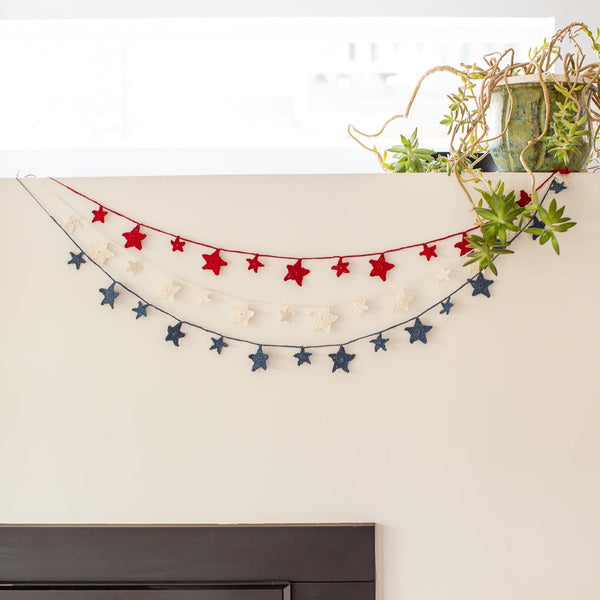 Fourth of July Crochet Star Garland Kit
What better way to celebrate the Fourth of July than with some handmade decorations! I love these sweet crochet stars and they are especially festive in red, white and blue! I love this pattern, because you can make a string of them or you can make them as singles to sprinkle across a table, or as napkin rings. Send an envelope full of them to a loved one also!
This is a limited edition version of our classic Tiny Crochet Stars
Small stars: 1", Large stars: 1.5"
All kits include
:: Color Step-By-Step Pattern and NOW VIDEO!
:: Darning Needle
:: Japanese Style Clippers
:: 3 mini cakes (55 yards) of Fingering Weight yarn in Red (Wild Poppy), White (Ivory) and Blue (Bayou)
:: 2.25 - 3.25 mm crochet hook
Option: order Full Skeins of Red, White and Blue
Kit makes approximately 8 large, 8 small stars with 3" of chain between in EACH COLOR (Four foot garlands of each color).
If you want a swoop that has more than 24 large stars and 24 small stars (12 foot garlands of EACH COLOR), order the FULL SKEIN KIT
Newly restocked! Kits will ship on Friday, June 23!