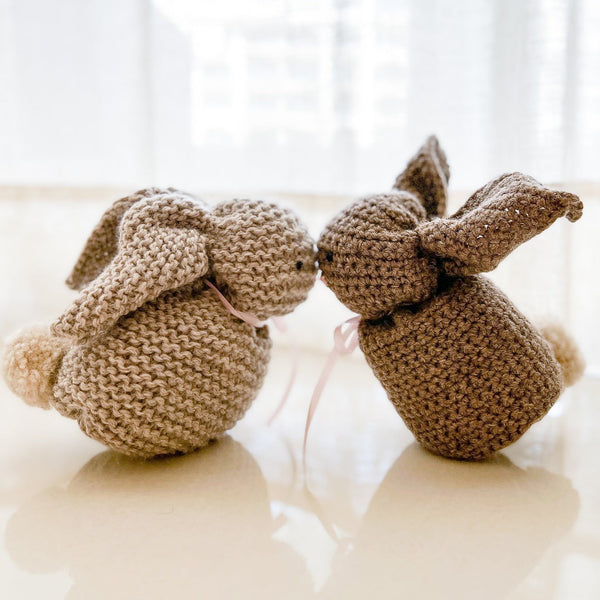 Easy Bunny Pattern - Knit, Crochet or Weave
Whatever your craft, I have you covered! Knit, crochet or weave this most adorable bunny! Or, make one of each just to give it a whirl. Because these bunnies are made with just a square of fabric, you can knit, crochet or weave with relative ease and construct your bunny at the very end. Great last minute gift!  This is also a GREAT beginning project for any of these crafts, knitting, weaving or crochet as they are all simple basic stitches with no increases or decreases. 
Bunnies measure approximately 4" wide by 7" tall
Pattern requires:
:: 175 yds of light bulky wool per bunny (I use Cascade Ecological Wool)
:: 8 yds of light bulky wool per tail 
:: Oddment of pink and black yarn for eyes and nose
:: 18" of Offray Satin Ribbon per bunny
:: 35 g of Polyfil stuffing per bunny
:: 6" weaving needle
:: 35 yds warp thread per bunny if needed (see note below) 
Pattern includes a video to walk you through construction of the bunny. Link will be listed on page 1 of the pattern under Materials & Details.

Tools required:  Size I 5.5mm Crochet Hook or Size 10 6.0mm Knitting Needles or a medium frame loom that gets 5EPI.
Looking for a Kit that includes everything you need to make your own bunnies! Look at the Easy Bunny Kit, to make one, two or three bunnies!