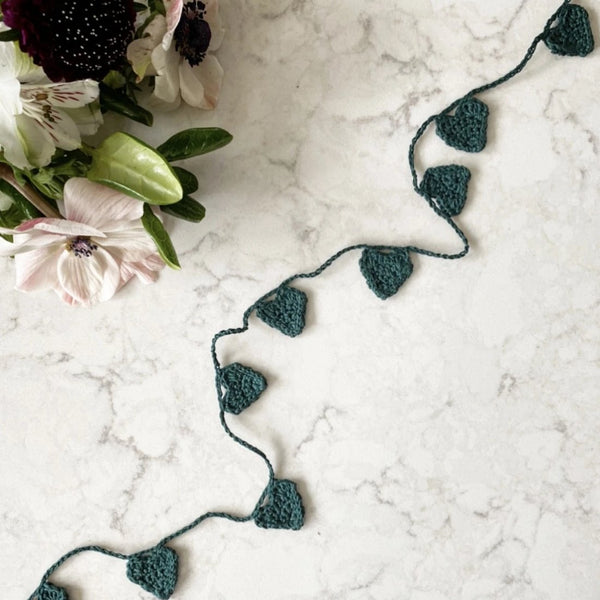 Crochet Mini-Heart Garlands Kit
I love these sweet little mini hearts. This crochet heart garland is the perfect size to drop in the mail to someone you love, or hang over a cake or party platter or simply to wrap around a package. I have a few taped up across our kitchen bulletin board!
KIT COMES WITH EVERYTHING YOU NEED to make 50 connected hearts or 5 10-heart garlands!!
:: 4-page Pattern with detailed step-by-step photos of how to make the hearts and connect them in a garland.
:: One Skein (156 yards) of Eco-Butterfly Organic Linen or Flax & Twine Fingering Weight Daytime Linen
:: USB1 / 2.25mm to US0 / 2.55mm Steel Crochet Hook
:: Sewing Needle to Weave in Ends
:: Small Black Clippers
:: Cardboard Envelope with Twine Tie for Giving 
Each heart measures is 1 1/4" (3cm) and the garland (10 hearts) is 32" (81cm) long.
If you want the pattern only, LOOK HERE.
If you'd like them in a range of colors, try the Ombre Heart Garland Kit
If you love the idea, but you want them even smaller, try the TEENY Heart Garland Kit!