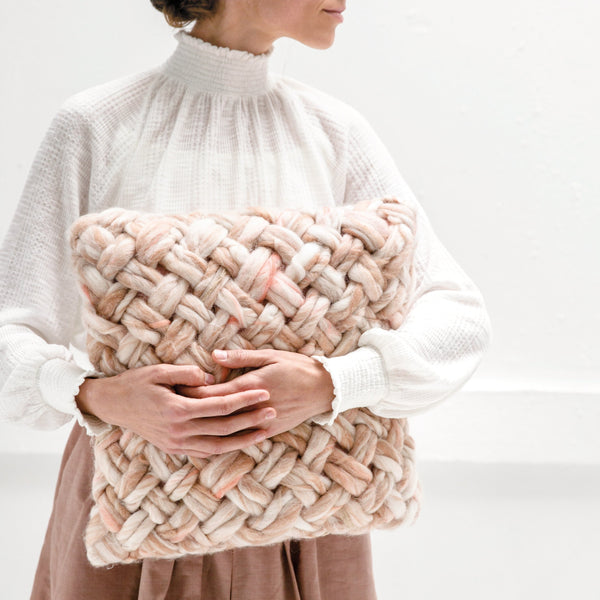 Basketweave Pillow VIDEO CLASS
Make this beautiful basketweave pillow in almost no time using a step-by-step video with Anne Weil. It is easy to learn this lovely loom-free weaving technique. Blowing up the scale of a basketweave pattern brings a refreshing change to a decorative throw pillow. A basketweave pattern just means using two strands of yarn for your warp and weft. Using a thick variegated specialty yarn makes a gorgeous statement for any room in the house.
This video is hosted on VIMEO. A document with a link and a password will be sent to you immediately upon purchase.
Video includes instructions on:
:: Cutting your materials
:: Weaving the Basketweave Pattern
:: Adding a backing for your pillow
:: Fine-tuning the finish on your pillow
:: Finishing your pillow with a blind stitch
Materials required:
:: 30 yards of jumbo yarn such as Knit Collage Wanderlust
:: 1 yard of color-coordinating fabric
:: 16" pillow insert
:: Color-coordinating thread
:: Sewing Pins
:: Ruler
:: Air-soluble marking pen (or pencil)
:: Scissors
:: Sewing machine or hand-sewing needles

Finished size:
16" (40 cm) x 16" (40cm)

This video is based on a pattern from Weaving Within Reach. Use the code VIDEOANDBOOK to get the book at 30% off in the shop.  Or, the book is available at amazon, here. If you have any questions, please email me at flaxandtwine@gmail.com
KIT AVAILABLE If you have purchased the Basketweave Pillow Kit, all required information is included in the kit, and this will just be an added resource. This instructions for accessing this video is free with purchase of the kit.