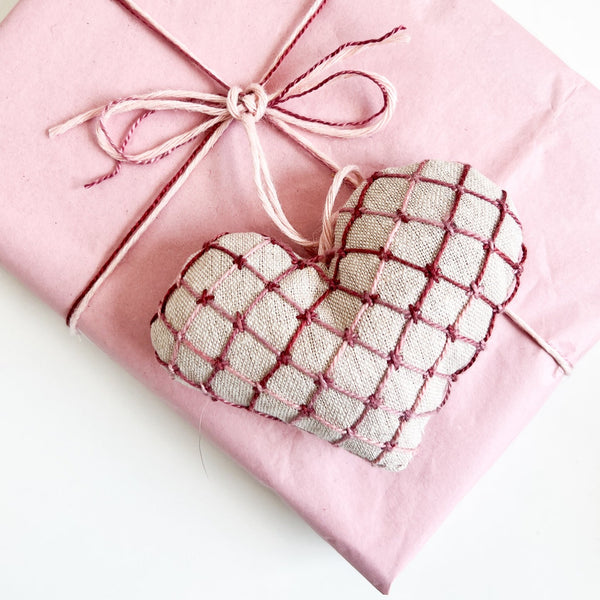 Jane Embroidered Hearts Kit
I love these sweet embroidered hearts.  This kit makes 4 hearts (2 big, 2 small) and includes everything you need to make the hearts. Use the hearts for a gorgeous handmade gift topper, to tie on to a bag, use as a place setting embellishment, or to hang around for the season. I also love the idea of stringing all four hearts in a long vertical chain to create a beautiful soft sculpture for sweet room decor The embroidery technique is lovely and can be used on its own or used to embellish all sorts of items. Big plus, no sewing machine necessary - the entire kit is done by hand and includes a full step-by-step video!
Measurements:
Large: 3.5" x 2.5"
Small: 2.5" x 2"
Kit Includes: 
:: 1 spool Valdani Embroidery Thread Size 8
:: 1.5 yds F&T DK Weight Linen
:: 7" embroidery hoop
:: 9 x 18" piece of linen fabric
:: Polyfil Stuffing
:: 16 sewing pins
:: Sharp Tapestry/Embroidery needle
:: Japanese-style Clippers
:: Air-soluble marking pen
:: Heart Template (included)
:: Full Step-by-Step VIDEO and Color Jane Embroidered Hearts Pattern (GREAT FOR BEGINNERS!!)

Not included: Ruler
Looking for the Jane Embroidered Hearts Pattern & Video on its own, it's here.