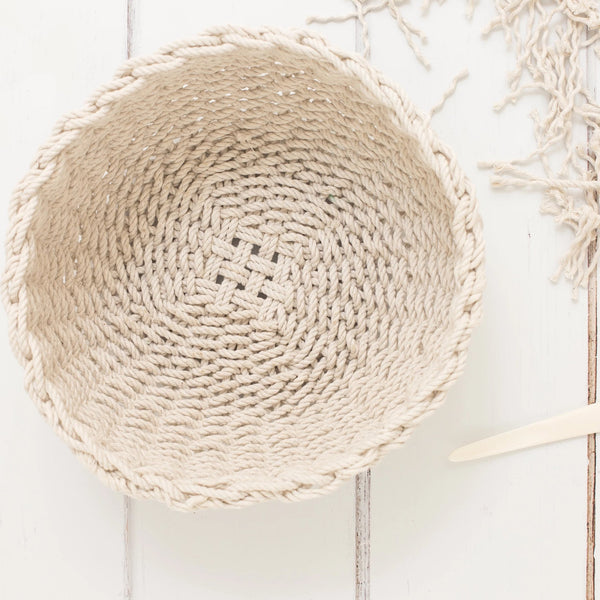 Twined Rope Bowl VIDEO CLASS
Finally, make this beautiful rope bowl using a step-by-step video with Anne Weil teaching this lovely twining basket-making technique. Simple in finish and classic in shape, this bowl brims with texture and reflective light. What a lovely way to bring something to a party—then leave it behind for the host as a thank-you. Once you learn the technique, transfer your skills to other containers and molds with ease. 
This video is hosted on VIMEO. A document with a link and a password will be sent to you immediately upon purchase.
Video includes instructions on:
:: Cutting your materials
:: Setting up your warp
:: Learning the twining technique
:: Applying your piece to a mold for shaping
:: Finishing your piece
:: Stiffen piece with fabric stiffener, if necessary

Materials required:
:: 30-40 yards of pre-cut 1/8" rope ready for weaving
:: 1 plastic bowl mold for shaping 
:: Copy of Twined Rope Bowl Pattern from Weaving Within Reach
You will also need:
:: Sharp scissors
:: Tape to prevent fraying (optional)
DISCLAIMER: Please note, though this video includes very detailed instruction, it is based on a pattern from Weaving Within Reach, and assumes that you have the book available to you for reference for overall material requirements and other details to make the EXACT item photographed. Use the code VIDEOANDBOOK to get the book at 30% off in the shop.  Or, the book is available at amazon, here. If you have any questions, please email me at flaxandtwine@gmail.com
KIT AVAILABLE: If you have purchased the Twined Rope Bowl Kit, all required information is included in the kit, and this will just be an added resource.