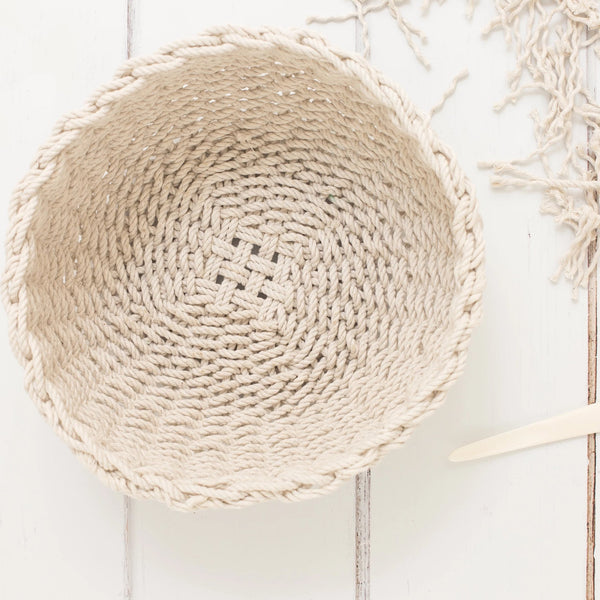 Jessie Twined Rope Bowl Pattern & Video
Finally, make this beautiful rope bowl using a step-by-step video with Anne Weil teaching this lovely twining basket-making technique. Simple in finish and classic in shape, this bowl brims with texture and reflective light. What a lovely way to bring something to a party—then leave it behind for the host as a thank-you. Once you learn the technique, transfer your skills to other containers and molds with ease. 
This video is hosted on VIMEO. A document with a link and a password will be sent to you immediately upon purchase.
Video includes instructions on:
:: Cutting your materials
:: Setting up your warp
:: Learning the twining technique
:: Applying your piece to a mold for shaping
:: Finishing your piece
:: Stiffen piece with fabric stiffener, if necessary

Materials required:
:: 30-40 yards of pre-cut 1/8" rope ready for weaving
:: 1 plastic bowl mold for shaping 
:: Copy of Twined Rope Bowl Pattern from Weaving Within Reach
You will also need:
:: Sharp scissors
:: Tape to prevent fraying (optional)
Are you interested in a kit that includes all materials needed? Look here.