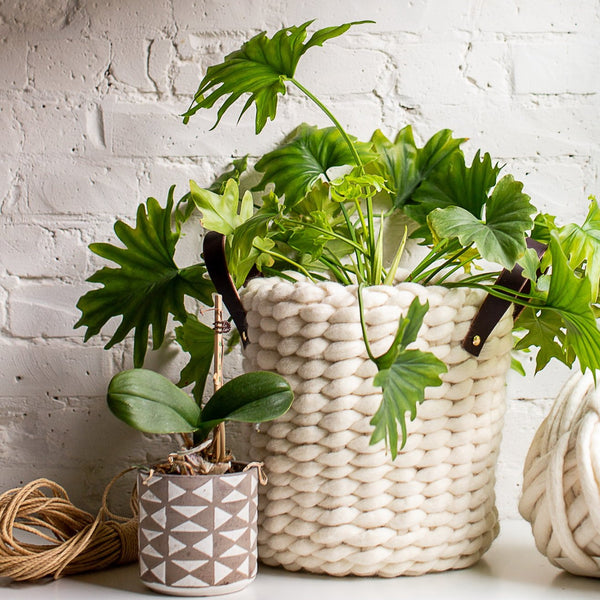 Januka Felted Wool Basket VIDEO CLASS
Woven yarn baskets are stylish storage solutions and so simple to make! I love this basket with chic leather handles, built out of gorgeous structural Tough Love Felted Wool. Hold everything from magazines to craft projects in the most stylish of ways! Easy to make, even if you've never woven a thing in your life!
This video is hosted on VIMEO. A document with a link and a password will be sent to you immediately upon purchase.
Video includes instruction on making the basket as pictured:
:: Cutting your wool
:: Preparing your wool weft
:: Prepping your warp
:: Learning how to twine
:: Starting new lengths of weft
:: Weaving in ends
:: Finishing your basket
:: Adding leather handles
Materials required for basket:
:: 50 yard ball of LoveFest Tough Love Felted Yarn
:: Basket mold (12" diameter)
:: Two 1" by 12" leather strips, pre-punched (optional)
:: Four 1" x 1" leather squares, pre-punched (optional)
:: 4 5/8" chicago screws (optional)
You will also need:
:: Scissors
:: Screwdriver
FINISHED SIZE
• 12" Pot: 11" (28 cm) in diameter, 10" (26cm) tall
KIT AVAILABLE Anyone who purchases the Felted Woven Twined Wool Basket will receive the video for free.