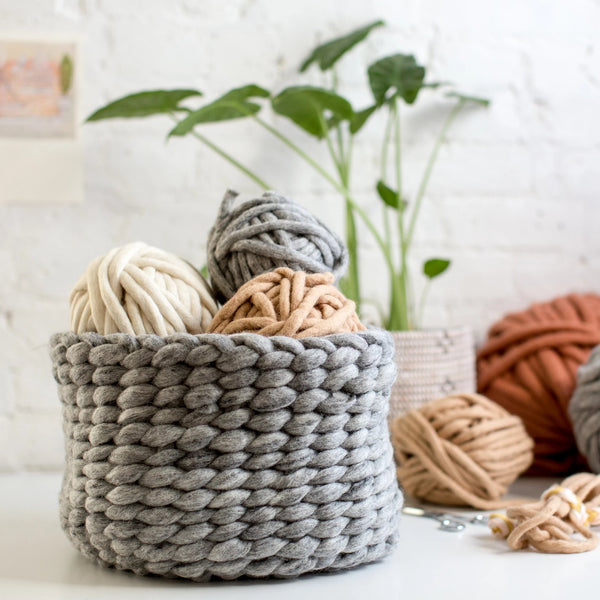 Januka Felted Wool Basket Kit
Woven yarn baskets are stylish storage solutions and so simple to make! I love this basket with chic leather handles and built out of gorgeous structural Tough Love Felted Wool. Hold everything from magazines to craft projects in the most stylish of ways! Easy to make, even if you've never woven a thing in your life!
Without Leather Handles Kit comes with:
:: Woven Yarn Basket pattern including instructions for 12" pot and a 14" pot.
:: 50 yard ball of LoveFest Tough Love Felted Yarn
:: Basket mold (12" diameter) 
With Leather Handles also includes:
:: Two 1" by 12" leather strips, pre-punched
:: Four 1" x 1" leather squares, pre-punched
:: 4 5/8" chicago screws
You will also need:
:: Scissors
:: Screwdriver
FINISHED SIZE
• 12" Pot: 11" (28 cm) in diameter, 9" (23cm) tall
• 14" Pot: 11" (28 cm) in diameter, 9" (23cm) tall
I've made video with step by step techniques HERE. This video is for a basket slightly taller than this one, but will work just the same with the same materials. Kit will come with the how-to techniques video.