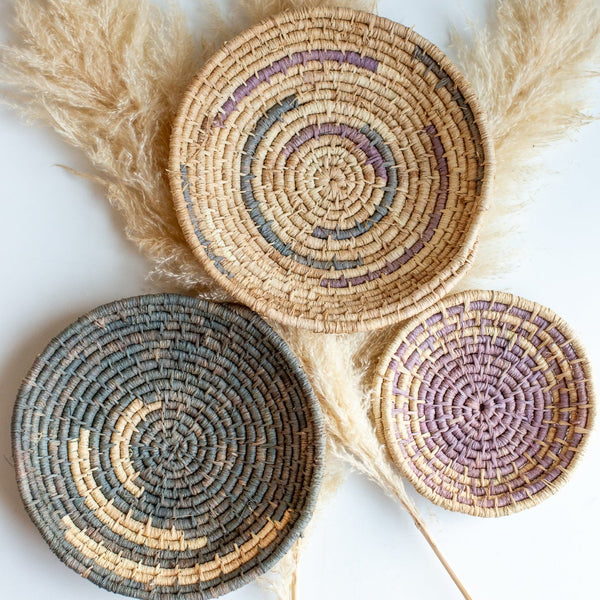 Autumn Baskets Kit
The Autumn Baskets Kit will teach you basket weaving in a weekend with an easy to follow pattern and video! Made with a coiled and wrapped basketweaving technique, the Autumn Baskets include enough materials to make 3 fabulous baskets. Each basket is thoughtfully designed to mix colors and shapes that work beautifully together and hung on the wall or separately on its own. Each basket is sturdy enough to hold wallet, keys and sunglasses, or easily maintain its shape hung on the wall.
Consider this basket weaving technique as a launching point for so many designs. The pattern and video teach all the details and how-tos of the technique and show you how to play with different designs as shown. In this technique, every bit of this basket is wrapped, so you can play with whatever color or pattern scheme you like. Play with color at random, introduce meaningful progression of shapes, or simply introduce alternating stripes and you have three amazing baskets and new skills.
We love the light feel of the eco-friendly Flax & Twine Raffia which is a sustainable crop sourced from Madagascar. The raffia provides an all-natural "basket" look while being light enough to create beautiful, yet sturdy vessels. No soaking required.
Pattern includes detailed step-by-step video for all the techniques!
Kit Includes materials to make ALL 3 BASKETS:
:: 3 50g Bundles of All-Natural Flax & Twine Raffia
:: 
3
 50g Bundles of Madagascar Dyed Raffia

:: Sharp Darning Needle
:: Japanese Style Clippers
:: 14x17 Muslin Project Bag
:: Autumn Baskets Pattern & Video
Measurements:
Random Colors Basket:  8.5" wide x 1.5" tall
3 Shapes Basket  7.5" wide x 1.25" tall
Alternating Stripes Basket 6" wide x 1" tall