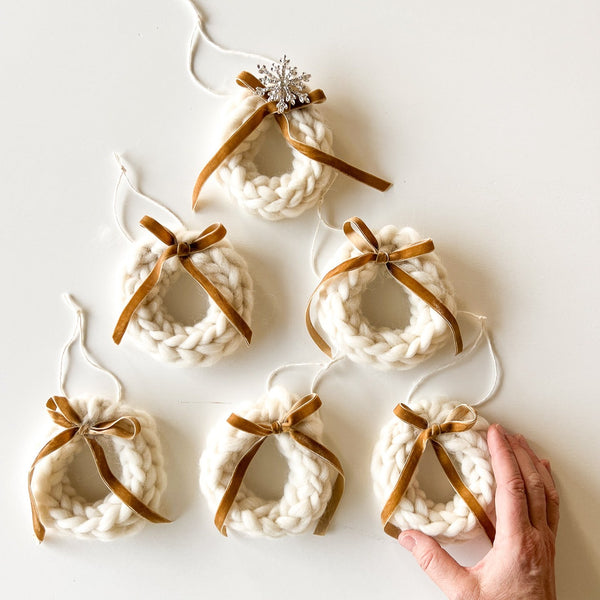 Wooly Wreath Bonus Pack (Makes 20 wreaths)
We were asked so many times for a way to make more of these gorgeous wreaths, we've made a special bonus pack. Finger knit TWENTY or more these lovely, wooly holiday wreaths to make your home cozy and warm this winter. Make these for your tree or mantle or add one to each plate at the table. Finger knitting is easy for kids down to the age of 5 so do them together with your family as a joint craft to enjoy. Finished with a delicate velvet ribbon these look elevated and elegant for a fancy dining table as well. 

For the ORIGINAL version of this kit, please look HERE.
This bonus pack comes with:
:: One skein of Cascade Magnum in Ecru (makes 20 - 22 Wreaths)
:: 30 yd mini-spool of Flax & Twine DK weight Linen
:: Wooly Wreath Pattern
Optional: 30 yd cake of F&T Velvet Ribbon
The base bonus kit has no ribbon (in case you want to use your own), though you may add any color of the 30 yard cake of Flax & Twine Velvet Ribbon as shown below.