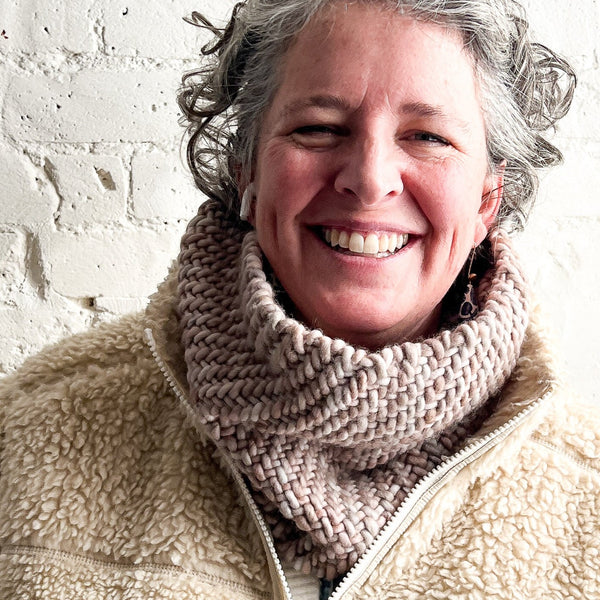 Frankie Twill Woven Cowl Pattern & VIDEO CLASS
Make this beautiful twill woven cowl using a step-by-step video with Anne Weil teaching you this lovely loom-free weaving technique. Blowing up the scale of a twill woven pattern brings a refreshing change to a traditional knit cowl. Soft and fuzzy, and at the same time streamlined and sculptural, this woven contradiction is sure to become your favorite wintertime accessory.
Pattern photos use a super-bulky yarn size, while video includes instructions for two different yarn sizes.
Pattern materials required:
:: 90 yards of Malabrigo Rasta (or 30 yards of jumbo yarn)
:: Cardboard Loom (11" x 14")
:: 12" Hardwood Shuttle OR piece of Cardboard 11" x 2"
:: 12" Hardwood Shed Stick/Pick-up Stick OR piece of Cardboard 11" x 2"
:: Two - Four Binder Clips
:: Ruler or extra cardboard to stabilize loom
Video also shows instructions for alternative yarn, such as:
:: 30 yards of jumbo yarn such as Knit Collage Wanderlust  
KIT AVAILABLE - Looking for a kit that has everything you need? Try the Frankie Twill Woven Cowl Kit  or the Wanderlust Twill Woven Cowl Kit