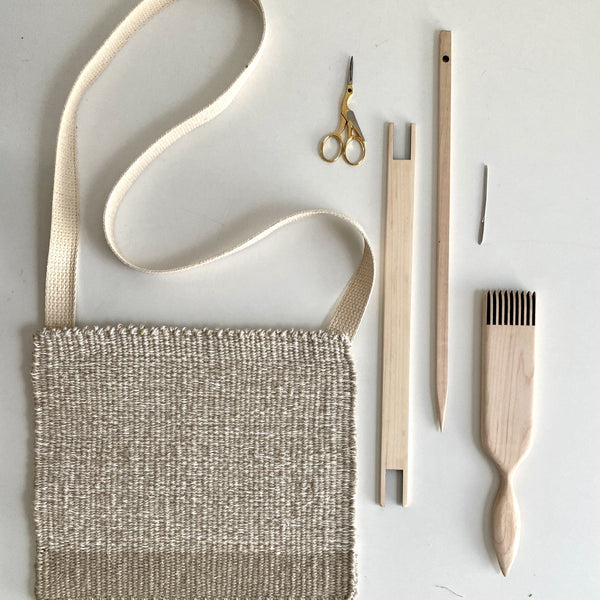 Clara Cross Body Bag Pattern with Introduction To Loom Weaving VIDEO
I love this Introduction to Loom Weaving Video Class. You learn the basics of weaving and you finish with a beautiful and useful cross-body bag.  It's as simple as weaving a square, yet you get a bag with gorgeous sheen and texture. Anne Weil walks you through all the steps and terminology for how to warp your loom, how to weave and how to make and finish your bag. This is the perfect way to to try weaving - I promise you're going to love it! Once you have this project under your belt, there are so many ways to explore on your new frame loom!  Bag measures 9" by 11" and is perfect casual carry-all to throw over your head on a walk, to the market or around town.
The entire bag includes Color A (Stone Flax & Twine Daytime Linen shown in sample). The highlight color, Color B (Ivory Flax & Twine Daytime Linen FIngering shown in sample) is only in the top portion of the bag. Woven on Flax & Twine Frame Loom.
Pattern Requires:

:: 5 EPI Frame Loom (18" x 13") with tools
:: Beater
:: 146 yds DK Weight Yarn (Color A)
:: 45 yds Fingering Weight (Color A)
:: 175 yds Fingering Weight (Color B)
:: 1 Yard 1" Canvas Strap
:: Darning Needle