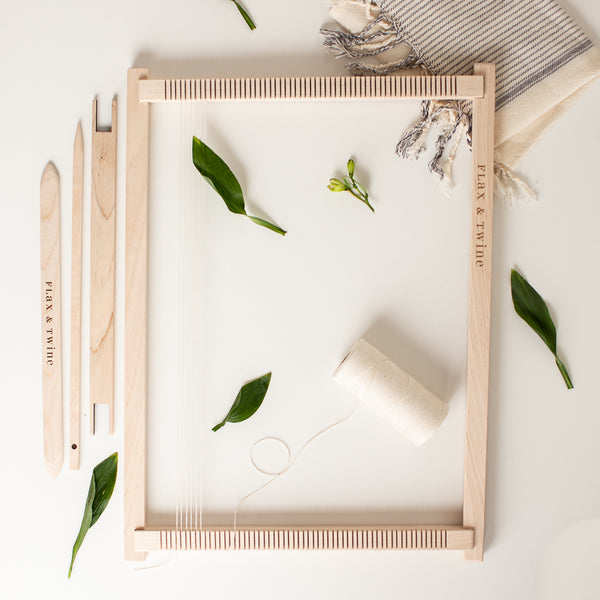 Flax & Twine Frame Loom
Make all sorts of lovely weaving projects, from wall tapestries to functional items, with this medium-sized Flax & Twine loom. Loom measures 18" X 13" and has 5 notches per inch (5 EPI or 5 dent). The weaving area is approximately 17" x 11". The loom comes unassembled but requires only four screws to complete assembly (this helps keep shipping costs down).

Order the Loom with Tools and you'll receive a beautiful shed/pick up stick, a weaving needle and shuttle made to fit the loom.

Use this loom to make beautiful wall hangings or lovely fabric and projects, including clutches, pouches, and other decorative items. See Weaving Within Reach for multiple projects using a medium sized loom. This loom can be used to make all the projects that used the Maryanne Moodie Loom used in Weaving Within Reach. The main difference in looms is larger weaving area (1" in both directions) and a different assembly so the screws are on the side instead of the bottom.
If you would like a slightly larger Flax & Twine frame loom, feel free to request one in your order's notes for no extra charge. The larger loom measures 20.5" x 15" with a weaving area of approximately 18" x 12". It also has 5 notches per inch (5 EPI or 5 dent).
Find the Loom & Book Bundle HERE.
Find the Easy Woven Bunny HERE.
Find the Clara Cross Body Introduction to Weaving Bag HERE
Find the Loom & Trellis Hemstitched Clutch Kit HERE.