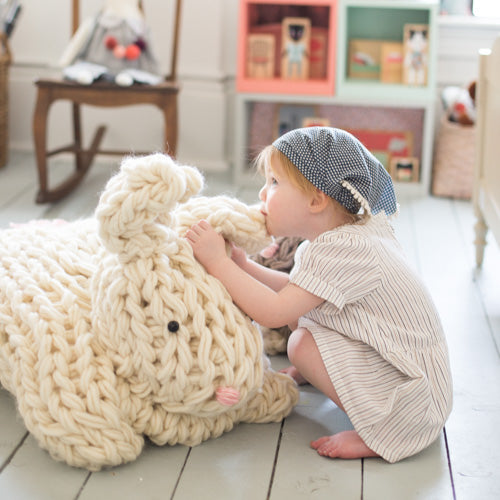 Giant Arm Knit Bunny Kit - Large

Imagine riding a gigantic bunny across the country side? Your kiddo will be over the moon with this fabulous over-sized bunny. Let her imagination run wild, while she snuggles and plays with her new favorite pal! 
This kit includes everything you need to make one large bunny, except for the stuffing.  For the stuffing of head and body, I suggest natural quilting batting or an old blanket or alternative down comforter in the color of your yarn.
NOW STEP BY STEP VIDEO available, including how to arm knit, how to keep stitches tight, how to stuff and how to finish! If you want just the pattern and video, look HERE
Kit includes
How To Arm Knit PDF
Arm Knit Bunny Pattern
6 skeins of Cascade Magnum (738 yards)
2 large black buttons
50 yds(27-47 m) of Cascade Magnum in Strawberries and Cream for tail and nose.
5 yards 18 gauge wire for ears (optional)

To make bunny, you hold 4 strands at one time. 4 x 185 yard (169 m) lengths req'd (Instructions how to add yarn mid-project in Arm Knitting How-To PDF)
NOW WITH FREE SHIPPING IN U.S.!