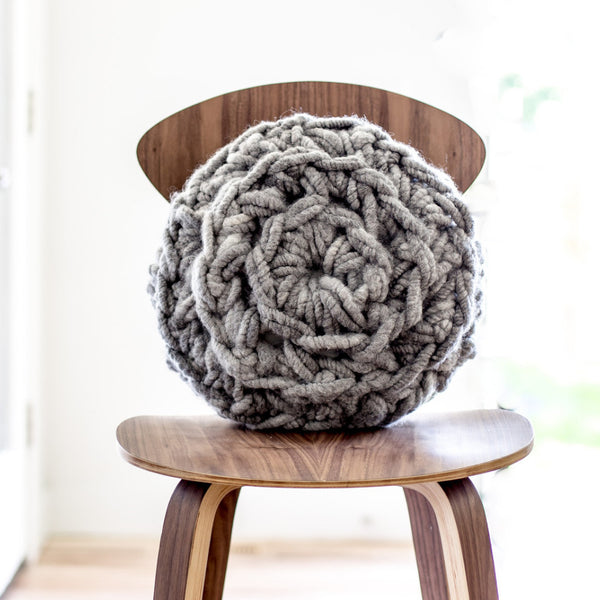 Hand Crochet Round Pillow Pattern
Traditional crochet stitches at an oversized scale make a wow-worthy statement of this simple round pillow. Make this pillow with no tools other than your own two hands and some gorgeous wool. In no time, you'll have this lovely pillow adding rich texture to any interior space you choose!
Hand Crochet Round Pillow Pattern is an automatic digital download that includes:
:: Hand Crochet Round Pillow Pattern
:: How to Hand Crochet PDF
:: How to Hand Crochet in the Round PDF
Materials
:: 100 yards of jumbo specialty yarn
:: 16" round pillow round
Hold the yarn double for this project (two strands at a time). Use a jumbo specialty yarn that gets approximately 1/2 stitch to the inch on traditional needles.
Yarn Used
:: 1 skein ReLove Alpaca in Dove Gray, 100 yd, 36 oz (66% alpaca fiber; 33% Global Recycle Standard Certified rPET; recycled cotton core)
This project can be done with less expensive yarn. If the jumbo specialty yarn is out of your budget, simply replace EACH strand of jumbo yarn with 2-3 strands of a super bulky yarn that you buy in your craft or local yarn store.
Size
:: 16" diameter