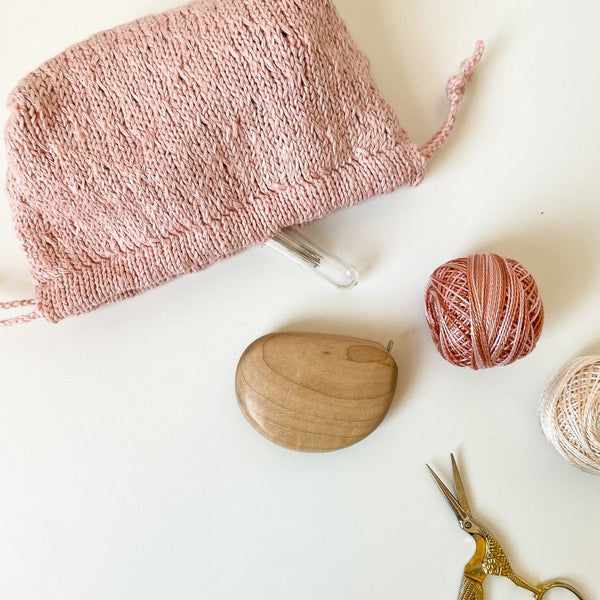 Mini Trellis Drawstring Bag Knit Kit
Look! A mini version of my favorite beautiful knit drawstring bag! This project combines a simple and fun stitch pattern with a hem channel and cleverly made drawstring (no i-cord!). The bag has a flat, boxed bottom so it can sit standing, and measures 3" x 5".  Bag is made with a skein of fingering weight Flax & Twine Daytime Linen. This makes a great little cosmetic or notions bag, or something to contain needed items in your purse.  Pattern and Video show you how to make both the mini and regular size! NEW video shows you how to make the drawstring and the easiest way to make the hem channel!
Gauge: 32 sts x 46 rows over 4"/10cm of Slipped Trellis Stitch
Measurements: 3" / 8.5 cm tall x  5" / 12.5 cm wide, 2" deep
 Kit Includes:
:: Trellis Knit Drawstring Bags Pattern & Video (2 bag sizes!, plus video on how to make the drawstring and the hem channel)
:: One skein 180 yards Flax & Twine Fingering Weight Linen
:: Sharp tapestry needle
:: Thread clippers
OPTIONAL
:: Size US 2 / 2.75mm Lykke Driftwood straight needles (Right now, there are no circular needles available in this size)
:: Size US 1 / 2.25mm Lykke Driftwood circular needles 
Are you interested in just the pattern for both bags? You can find it HERE.
Interested in the Regular Size Trellis Drwastring Bag Kit, look HERE