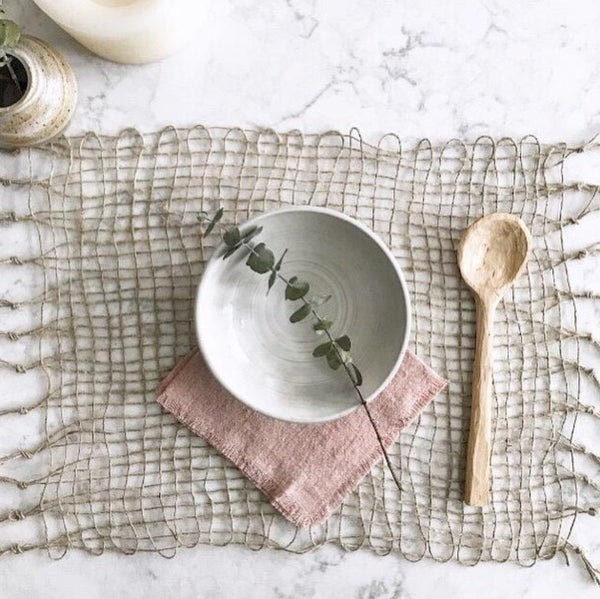 Savannah Open Weave Placemat Kit
Add a lovely set of open weave place mats to your collection of table linens. The texture of the fiber, whether it's tow linen or the cotton lanyard yarn, adds interest to this simple design. The kit comes with a mat-board loom so no need to buy a loom, yet it's sturdy enough to make a set of 6!   I love that these are made with a made loom and are super fun to make for all ages. This is a fabulous beginning weaving project.  Kit comes with a step by step video so I'll be with you every step of the way!
Placemats measure: 13" (33cm) tall, 18" (46cm) wide, excluding the fringe
Kit comes with
:: 24" x 13 7/8" mat board loom
:: 3" x 13 7/8" mat board which you will cut for a shed stick and shuttle
:: Flax & Twine Pick up/Shed Stick
:: Clippers
:: Washi Tape
:: Open Weave Placemat Step by Step Video
If you are looking for the written pattern (and 23 other awesome ones), it is available in Weaving Within Reach.
Fiber of your choice:
Flax & Twine 1.5/1 Tow Linen (200 yards/ 120g) (Makes 4)
OR
Echoview Lanyard Yarn (2 50 yard skeins) (Makes 2)
OR
Echoview Lanyard Cone (1 253 yard cone) (Makes 6) 
You will need:
:: Pencil
:: Sharpie knife or sharp scissors
:: Ruler
Interested in the video on its own, find it HERE.