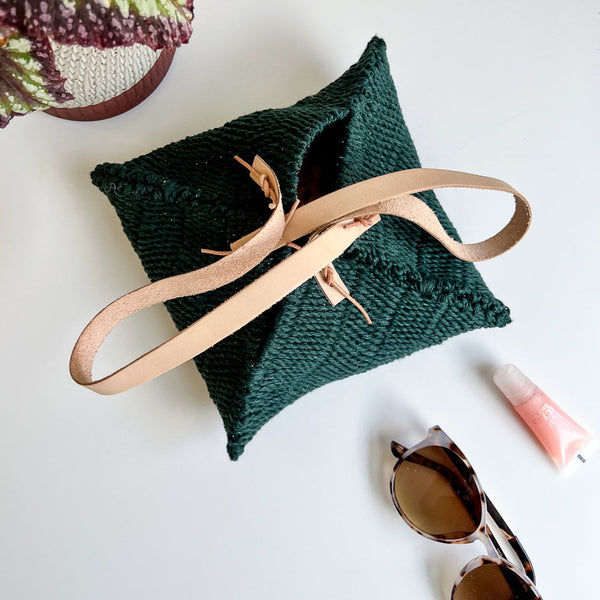 Penny Bag Kit
You all wanted to see Penelope made on a smaller loom, and here it is! Such a cute little bag. Just like the Penelope Bag, the gorgeous herringbone texture on the Penny Bag makes me swoon. Accomplish this pattern by repeating the same 4 rows over and over on a Flax & Twine Frame Loom. Seam up four corners and you have a fabulous handbag, mini-tote, or project bag. Because of its construction, Penny sits flat, making it a great working bag.
Measurements:  7" x 7" sitting flat. 11.5" from handle to base when hanging.

Kit Includes:
: 1 x Flax & Twine Daytime Linen DK Weight, 123 yd (112m), 3.5oz (100g)
: 1 x Flax & Twine Daytime Linen DK Weight, 30 yd (27m), (25g)
: One pair of 16" Coco Knits Leather Handles
: 4 stitch markers
: Clippers
: Weaving needle and Darning needle
: Penelope Bag Pattern and STEP BY STEP VIDEO!
: Penny Bag Pattern Supplement
Optional:
: Flax & Twine Frame Loom or other loom that gets 5 EPI (2 ends per cm) with shed stick and shuttle. Weaving area 11" x 18" 
Comb/beater not necessary for this project unless desired. You can use a wooden weaving needled to draw weft gently into place.
Looking for the  Penelope stand alone pattern and video class, which includes the Penny Supplement, TRY HERE
FREE WEAVE-A-LONG FOR A SHORT TIME ONLY:

Join us for a  Weave-A-Long so you get this done in time for summer parties!
Week 1:
Meet: Tuesday May 17 from 6pm to 6:30pm Mtn 
Arrive with: Excited hands!
In Meeting: Kick Off and questions answered.
Week 2: 
Meet: Tuesday May 24 from 6pm to 7:00pm Mtn
Arrive with: Warped Loom, full shuttle 
In Meeting: LIVE CLASS to learn the Herringbone pattern
Week 3 - 4:
Meet: Tuesday May 31, from 6pm to 7pm Mtn. AND/OR
Meet: Sunday June 5 from 3pm to 4pm Mtn
Arrive with: Some of your piece done
In meeting: Weave along with your fellow classmates on zoom. 
Anne will be there for 10 mins at the beginning to answer questions. 
Week 5: 
Meet: Wednesday June 15th, 6pm to 6:30pm
Arrive with: Weaving done and bag stitched
In meeting: Add handles and review any questions at the finish.