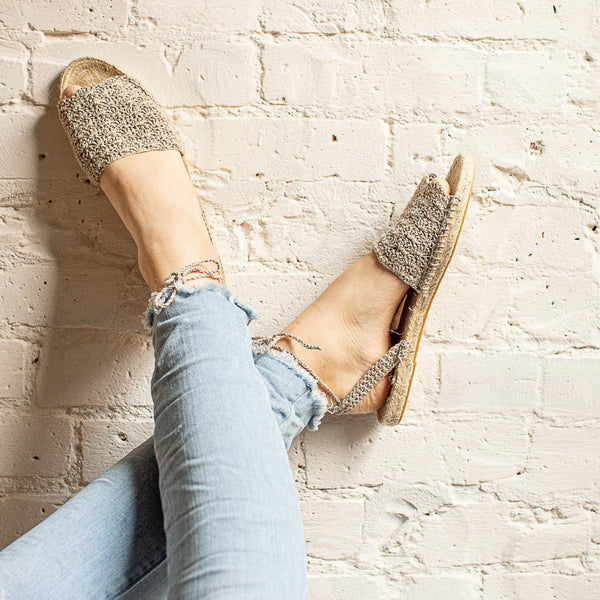 Shell Stitch Crochet Espadrilles Pattern
I have to admit I fell absolutely in love with these shoes the second I stitched the crochet piece on to the sole. These are just lovely handmade shoes any way you look at it. I love the texture, the toes peeping through, the delicate tie-on strap, and the clean simple look of them. You're going to love them, too. AND, just think of it, you made a pair of shoes!  Use a beautiful fingering weight linen and shell stitch to make these beautiful shoes. They are secure and comfortable.
This pattern comes with: 12-page color pattern with step-by-step photographs to walk you through all the details. 
You will need:
:: 180 yards of Flax & Twine Fingering Weight Linen
::  For shoe sizes 5, 6, 7 [Euro sizes 35, 36, 37], use C-2 (2.75mm) Crochet Hook
::  For shoe sizes 8, 9 [Euro sizes 38, 39, 40], use D-3 (3.25mm) Crochet Hook
:: For shoe sizes 10, 11, 12 [Euro sizes 41, 42, 43], use E-4 (3.5mm) Crochet Hook (US sizes 10, 11)
:: Espadrilles Shoe soles in appropriate size
:: Sharp Needle
:: Sewing pins
 Euro to US Shoe Sizes: Look HERE