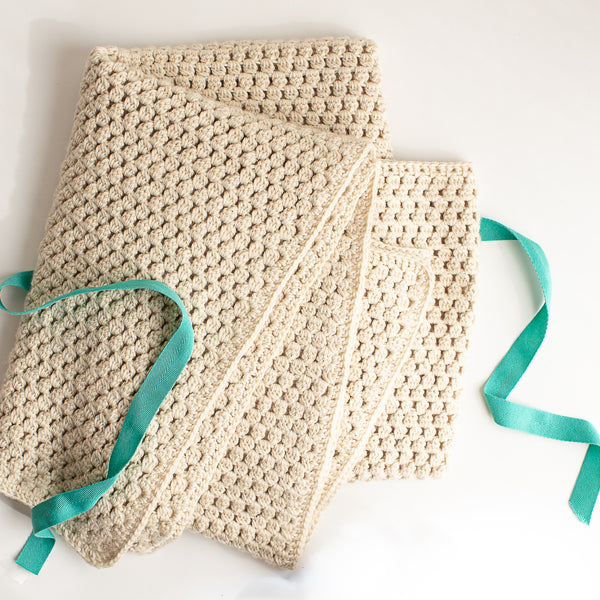 Bobbie Bobble Baby Blanket Kit
Gifting a soft and plush baby blanket generously bestows a family heirloom to the recipient. This beautiful crocheted baby blanket is 100% wool, fully washable, and sized at 32" square. The blanket is made with the Soft Bobble Stitch, which makes a lovely round, yet flat stitch with a fabulous squish and softness to it. The soft bobble stitch is fully reversible, identical and stunning from either side. Make this blanket leisurely over time after the announcement of your loved one's impending arrival. Though it looks complicated, it is the same stitch throughout the blanket, providing an easy meditative project, yet a gift that will really WOW!
NEW, Pattern comes with a Step-by Step VIDEO on how to make the Soft Bobble Crochet Stitch, the double crochet stitch border, as well as adjust sizing based on your gauge.
This kit comes with:
:: Malabrigo Rios 100% super-wash merino wool 210 yds/ 192m, 3.2 oz/100g in
32" square = 8 skeins 
:: US G (4.0 mm ) Crochet hook
:: Clippers and Darning Needle
:: Soft Bobble Baby Blanket Pattern and VIDEO
Because of the quantity, I special order this kit upon request, please allow 2 weeks for delivery.
If you want the Bobbie Bobble Baby Blanket Pattern and Video, look here