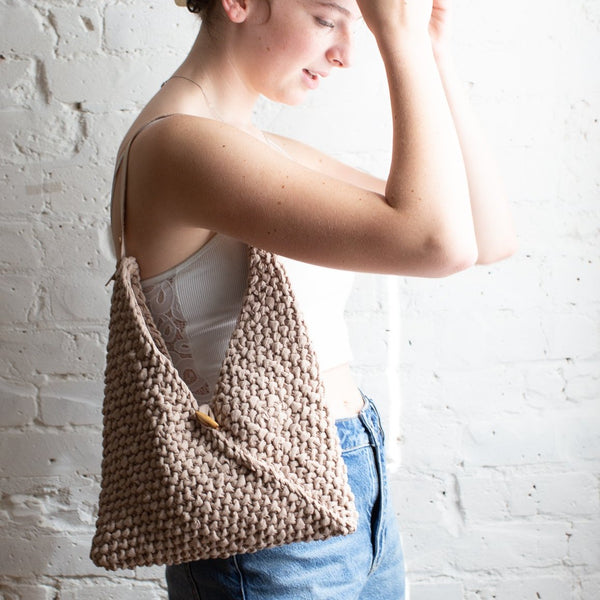 Tessa Tote Kit
Knit this gorgeous bag in only a few hours. The chunky texture of the twill tape adds stunning visual interest, while the shape is functional and fun at the same time. Add a lovely, removable leather handle, along with a one-of-a-kind antique toggle button to keep your bag closed. The Tessa Tote is worked in the Linen Stitch across a simple rectangle. Detailed video on how to knit the linen stitch and complete the bag is included. Accomplish the shape through folding as a bento bag at the end of the project.  With the Linen Stitch, you can choose the right side of the fabric (olive) or the wrong side (mushroom), and they both look fabulous!
Kit Includes:
:: 150 yards of Flax & Twine 3/8" Twill Tape
:: US 17 (12.0mm) Circular Knitting Needle
:: Toggle Button
:: 16" Removable Tan Leather Handle (from Coco Knits) 
:: Darning Needle
:: Japanese Style Clippers
:: Tessa Twill Tape Tote Pattern and Video
Measurements: 13" wide x 12" tall (without handle) x 17.5" (with handle)
Have materials, and looking for the pattern and video on their own? LOOK HERE!