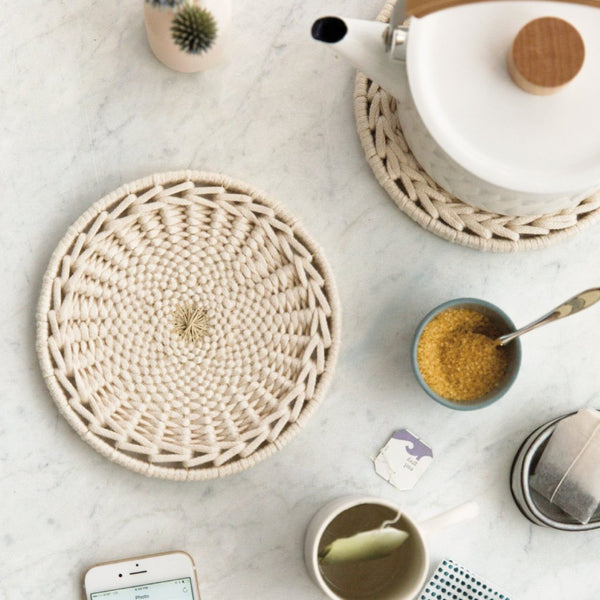 Woven Cotton Trivet Kit (Makes 2)
Make two of these beautiful cotton trivets using an embroidery hoop as the loom. Everything needed comes in the kit! 
Add some handmade charm to your entertaining style with these gorgeous textural cotton trivets. Use the same technique and different embroidery hoop sizes to create a whole matching set for your next gathering. Or, because they are so pretty, make them in varying sizes and hang them in a collection on the wall. You can even weave them small enough to use as coasters.
TIME REQUIRED 3 hours
KIT INCLUDES:  
:: Two 7" embroidery hoops 
:: Two 6 yard lengths of 1mm hemp twine
:: 50yd (24.7m) Echoview Lanyard Yarn in Natural, 50% organic cotton, 50% Cottina Cotton
:: Tapestry needle
:: DIY Woven Cotton Trivet Instructions with photographs & full VIDEO COURSE
FINISHED SIZE
• 7" (18 cm) in diameter, 3/8" (1cm) tall
Are you looking for the pattern only? You can find it in my book, Weaving Within Reach, or find the Woven Trivet VIDEO COURSE here.