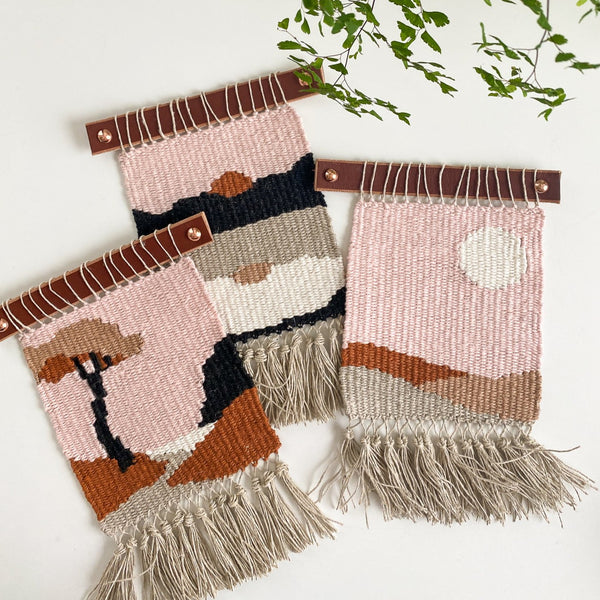 Woven Sandscapes Kit
Learn how to weave beautiful landscapes with fiber. Using the Flax & Twine Hand Loom and a range of lovely linen, you can create beautiful works of art for your wall. These landscapes range from beginner to more advanced. 
Finished Measurements: 7.5" (19 cm) x 11" (28 cm)
Sandscapes Woven Landscapes Kit includes: 
:: Yarn to make all three landscapes
:: 1 spool of 1mm Flax & Twine Linen Cord for warp
:: Three 7.5" piece of 1" leather for hanging
:: 6 rose gold upholstery tacks
:: 6" metal weaving needle
:: Yarn snips
:: Dowel shed stick
:: Step by step Sandscapes Woven Landscapes Pattern (includes graphics for all three)
:: Link and password to Woven Landscapes Video 
:: Optional: Flax & Twine Hand Loom Kit (5.5 EPI) 

Video and pattern cover how to:
:: Warp your loom
:: Basic weaving techniques
:: Create shapes
:: Maintain the integrity of your woven piece
:: Weave in ends
:: Finish piece 

Please note that the video includes detailed instructions how to make the Sunset Sandscape and includes techniques on how to make the other two.
Of course, if you want to weave these landscapes this with your own yarn and color palate, you can! Here is a link to the Woven Sandscapes Pattern & Video, where you receive all the lovely graphics to make your very own.