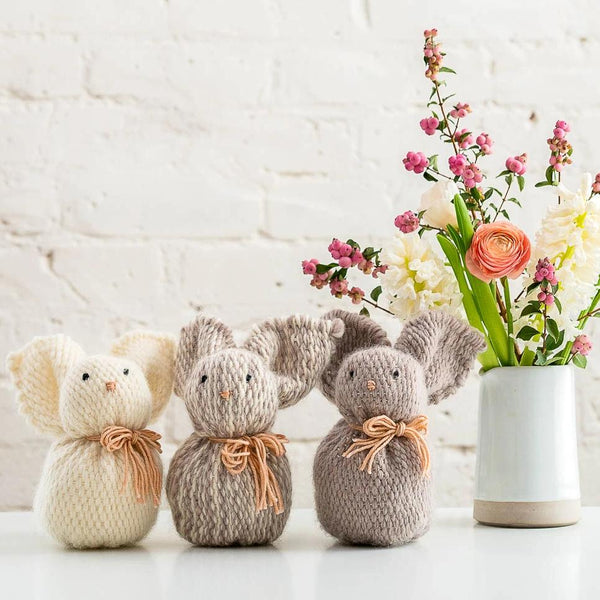 Woven Stuffed Bunny Rabbit VIDEO CLASS
Super easy and fast, this adorable bunny will soon be your go-to baby gift or a favorite way to entertain your crafty kiddos. Beautiful yarn adds interest and dimension and its magic how it all comes together!
Video includes instructions on:
:: Cutting your materials
:: Making your cardboard loom
:: Setting up your warp
:: Basic weaving skills
:: Finishing your piece
:: Weaving in ends
:: Shaping the bunny
:: Adding the eyes, nose, and tail
Materials required:
BODY - Weft
:: 50 yards of super bulky yarn such as Camelia Fiber Co. Handspun Alpaca/wool in Smoke OR
:: 75-100 yards of chunky/bulky yarn such as Echoview Haley Yarn or Paton's Classic Wool Roving
TAIL
:: 15 yd of DK, Worsted, or Bulky Weight Yarn in desired color

OTHER
:: 22 yards of 8/4 Cotton WARP Thread
:: Scrap yarn in pink and black
:: Raw Cotton or Polyfil Stuffing
TOOLS
:: Mat Board Loom (11" x 16")
:: 12" Hardwood Shuttle OR piece of Cardboard 13" x 3"
:: 12" Hardwood Shed Stick OR piece of Cardboard 13" x 3"
:: Darning needle
Please note, though this video includes very detailed instruction, it is based on a pattern from my book, Weaving Within Reach. For reference, terms and overall material requirements and other details, see the book. Use the code VIDEOANDBOOK to get the book at 30% off at www.flaxandtwineshop.com.