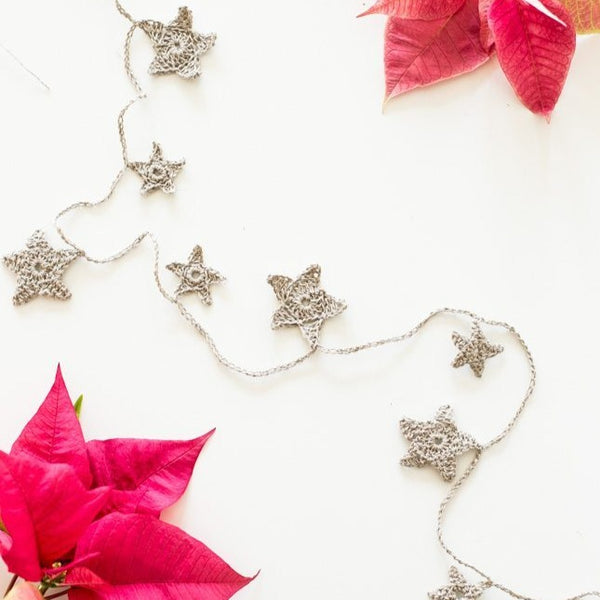 Tiny Crochet Star Garland Kit
I love these sweet crochet stars! The pattern is FREE on my blog, but I wanted to share some fabulous materials for you to whip some up like mine. I love this pattern, because you can make a string of them or you can make them as single ornaments. These stars are great for a tree, or a decorative window, or to top packages or add to bottles of gift wine! Or, hang from your bulletin board to remind you to feel like a star!
Stars in the primary garland photo are "Tiny - Stone" 

Small stars: 1", Large stars: 1.5"

All kits include
:: Color Step-By-Step Pattern
:: Darning Needle
:: Japanese Style Clippers
:: 1 skein Fingering Weight Linen (179 yds)
:: 2.25 - 3.25 mm crochet hook
1 skein makes apprx 24 large, 24 small stars with 3" of chain between
Interested in Teeny Stars (Valdani Size 8 Thread), Tiny Stars (Fingering Weight), Small Stars (DK Weight), or Giant Stars (3mm Flax Cord), click the links.
If you'd like these in Eco Butterfly Linen which has a broader range of colors, just name the color in the notes. Please note the yardage is smaller.